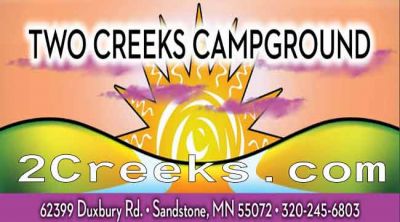 Cleanup help needed at Two Creeks!!! If you're not familiar with Two Creeks, please click here for details.
To register for this event, please click here
To put it simple, we need your help to fine tune this community for the sexiest and wildest lifestyle group in the nation (that's you).
We need many volunteers to help stain picnic tables, pick up twigs, branches, cut up fallen trees, trim tree branches, cut down old trees, etc. So we are having a FREE Cleanup Party, Friday – Sunday, April 26 – 28, 2024.
Here's the deal, not only will we give you FREE camping, April 226 – 28, 2024, but we'll also give a $90 credit towards another upcoming two day event, good until end of this current camping season at Two Creeks. You can even use it towards SwingStock. That's right, you'll have $90 to come back to Two Creeks to relax, enjoy, frolic and play, anytime between now and end of this current season. That's not bad to volunteer 5 to 7 hours is it?
What's the catch? Nothing! Zero! Nada! It's all on us, including FREE camping with electric and water hook up on a first come, first served basis. All you have to do is come, volunteer and help us to beautify the place.
We need for you to bring your chainsaw, rake, protective gear, gloves, weed whacker, tree trimming equipment, flatbed truck/trailer (to haul stuff away), lawn mower, stump grinder or similar items needed to work on a campground.
On Friday night, we'll have a get acquainted dance and party at 9pm. If it's cool at night, we'll have the dance in our heated, indoor club house (we call it the Cub House).
Saturday, 9am to 4pm, we'll work to cleanup up the campground; 4pm to 6pm, get relaxed, cleaned up, and get ready for dinner.
6pm to 7pm, Potluck Dinner, location to be determined. For this pot luck dinner the theme is "Warm Up With Soup and Bread" We are asking that you bring your favorite soup. If soup is not your thing, bring bread or dessert. This is a great way to get to know one another. Enjoy a hot meal and meet your new friends.
9pm to 1am or so, there will be a Pajama/Onesie Party and Dance.
On Sunday, everyone who helped to clean up the campground for 5 to 7 hours will receive a certificate for a FREE weekend (two days – up to a $90 non cash value) at Two Creeks Campground, to be used towards any event until the end of this year's camping season.
So, what are you waiting for? This Cleanup Weekend and Lingerie/Onesie Party is ABSOLUTELY FREE*, and you'll be able to come back, at our expense and enjoy the fruits of Two Creeks.
We also rent: 10′ X 10′ or 12′ x 12′ cabins with microwave, air conditioner, refrigerator and queen size bed and if you prefer, 14′ X16′ cabins with water, electric and sewer. Tents are also available to rent. All rentals are at an additional price not included for free. See the reservation form for details.
To register for this event, please click here.
Thanks for coming out and helping to beautify Minnesota's Premier Clothing Optional Campground. It's only 90 minutes north of Minneapolis/St. Paul, about halfway between the Twin Cities and Duluth.