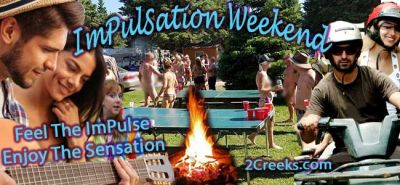 Please Click Here To Register For This Event
Friday to Sunday, September 8 – 10, 2023 is the ImpulSation Weekend – Enjoy the impulse and the sensation that follows. There is nothing planned this weekend. It's whatever you make it to be. Follow your impulse and enjoy the sensation (ImpulSation!!! ™(c)).
The kids are back in school and you need time with other grown ups. It's "me"/"us" time. You don't have to do anything but relax with your adult friends, doing whatever you desire; explore your friends, go four wheeling; fish at one of the local lakes; sun all day! It will be filled with impromptu gaiety. Feel the impulse and enjoy the sensation!
There might be impulsive gatherings, bloody Mary bars, singing over an open fire or a private tryst with one or more people. It's whatever the mood calls for.
So come on out to the number one lifestyle friendly community in the Midwest. It's not a KOA or some uptight, restricted naturist or nudist campground with kids. It's a place for free-spirited adults, to let loose and be your own beautiful self.
The weekend rate is as little as $45 per night per couple or single This includes camping in your tent, RV, Travel Trailer, etc., is FREE. Electric and water is $20 per day (2 day min.)
Don't have a tent or trailer? We also rent fully 10′ X 10′ or 12′ X 12′ cabins with microwave, air conditioner, refrigerator and queen size bed and if you prefer, tents are also available to rent (we'll even setup the tent for you). See the reservation form for details. See the reservation form for details.
Please see the reservation form for details and. or to make your reservation.