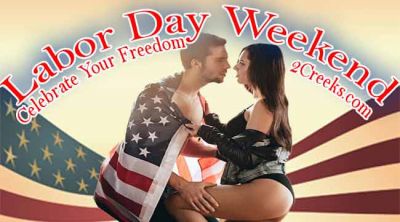 Labor Day Weekend Celebration
Friday – Monday
September 1, -September 4, 2023
Two Creeks Clothing Optional Community and Campground
East of Sandstone, MN
Do we need to say more? Come enjoy this holiday weekend with your friends!!! This is your chance to get away and enjoy life to the fullest. Come enjoy nature and each other at Two Creeks Campground, a 100 acre, totally secluded, clothing-optional campground/lifestyle friendly community just north of Minneapolis/St. Paul, near Sandstone, Minnesota.
At this community you'll be able to be yourself! Feel free to shed your clothes, along with the stress of life; feel free to express yourself in a very peaceful setting. After all, there are absolutely no kids here. Everyone in attendance is an adult, successful in life, and enjoys the freedom that this soiree has to offer.
This weekend you'll have the option to:
Attend a dance each night
Play Volley Ball, Pickle Ball, Bean Bag Toss and numerous other games
Canoe/Boat and/or fish the creek, local lakes and rivers
ATV on the local trails
Parade around in your golf cart
Be naked all day
Party all day and all night long (if that's your desire)
Lay around and sun all day (if that's your desire)
Meet long time friends and make new ones
Bring a dish to share at the Potluck on Saturday night
Do what free spirited souls do best!!!
Friday night at 9:00 pm with a Hottie Hospital Meet and Greet. Be a naughty nurse or a hands on doctor. Or just come in your pajamas. That's all you need.
Saturday during the day starting at 10 am we will have our Labor Day Craft Fair and Garage Sale. Bring your items to the Area 69 picnic table area for sale. There will be no extra charge for vending on this event.
6:00 pm on Saturday join us for Pot Luck. Bring a dish to share. Its a great way to get to know people.
On Saturday night at 9 pm there will be a Medieval Masquerade. Dawn your best medieval frock, pack up yer plastic sword, don yer garb, and prepare to party all night long. There'll be a prize for the Best Knight and Wench Costume. So be sure to be nice as you may end up walking the plank!
Sunday Night is still a party on Labor Day Weekend, so go back to the pajamas and have a onesie night.
On Sunday, about 1pm, we will be doing our part for the community. Everybody will be invited to join us for our last Adopt A Highway road clean up of the season. We will have our 2nd Annual Weenie Roast immediately following the road clean up. Volunteers will be asked to aid us in cleaning up two miles of Duxbury Road, just directly east of the campground. We will need drivers and a cleanup crew.
If you can't camp for the weekend, just come up for the dance, socializing and camaraderie. You entrance fee is good all day/night long (see the reservation form for details).
Attendance starts at $45 per single/couple per day; come for one, two, three or more days.
We also rent fully equipped cabins with microwave, air conditioner, refrigerator and queen size bed or if you prefer, tents are also available to rent. See the reservation form for details.
So come on out, get invigorated at your weekend "cabin" in the north woods. To register,please click here.