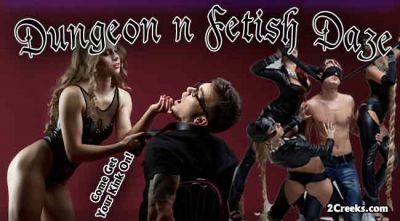 Come join us at Two Creeks Campground for our Dungeon and Fetish Daze Event – Friday – Sunday, August 25-27, 2023. Come let your Fetish Flag fly proud!!
Bring your leather, bondage, BDSM equipment and toys or fetish wear, plus anything else that tickles your fancy and join us! We will be having a fun weekend. We are still looking for volunteers to share their knowledge of BDSM /Kink / Fetish activities. If you would like to do a seminar, demonstration or the like, please contact us at info@2creeks.com
Friday morning, August 25 – Schedule to be announced.
Friday evening, 9pm, Meet & Greet social – come dance our kinky asses off. You never know who you'll meet and greet, plus want to get freaky with…wink, wink!
Saturday morning, after you've digested your wake up juice, Schedule to be announced.
Create your freakiest dish and join us for a potluck supper at 6 PM on Saturday evening and have a boundiful time!
Saturday evening at 9 PM will be the Dungeon Days Fetish Ball. Break out your Leather gear, wear your fetish outfits and dress your part; let your Kinky Flag fly.
As Sunday comes around, it's another day to do whatever you want. After all, check out is not until 2 pm. So you can get freaky doing anything in between that you choose or as usual you can do nothing at all. This community is all about you and your freedom. Be you or be as vanilla as you think your parents were; it's truly your choice.
Register as soon as possible. The Entrance/Ground's Fee starts at $45. Per couple/single, per night. This includes free camping in your RV, tent, van, pop-up, travel trailer and the like (electric and water hookups are extra… See reservation form for details).
Don't plan on camping/just want to come in for the dance? The above rate is also your day pass. This includes socializing all day/night and/or the dance. Just make your selection on the reservation form.
Don't have a tent or trailer? We also rent fully equipped 10′ X 10′ or 12′ X 12′ cabins with microwave, air conditioner, refrigerator and queen size bed and if you prefer, tents are also available to rent (we'll even setup the tent for you). See the reservation form for details.
This event is for everyone, including swinger, nudist, naturist, polyamorous, straight and the LGBT community. These rates are for paid members of Two Creeks Circle of Friends, Club H/MPC, Kasidie, FE, LL, SV, SDC, CND, and SLS. If you're not a paid member of any of these organizations, you have the opportunity to join Two Creeks Circle of Friends for either for one month or for one year (see reservation form).
So come on out, get invigorated at your weekend "cabin" in the north woods. To register, please click here