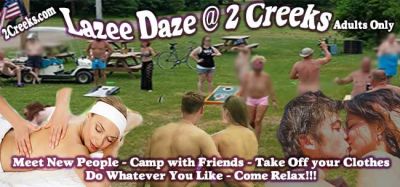 PLEASE CLICK HERE TO REGISTER FOR THIS EVENT
You've worked hard; you're exhausted; you want to relax with adults; you don't want any children around; you want to tell adult jokes; you want to be around fun people; you may go out to dinner, or just stay in and grill; you may go fishing or lay around clothed or naked all day. This is a good time to come up and meet many of the residents of Two Creeks Campground in a relaxed, casual atmosphere.
Well, come on out to Two Creeks, Minnesota's clothing optional, swinger, gay, lesbian and LGBTQ friendly campground and enjoy a Lazee Daze Weekend. It's your chance to do whatever you want to do, without any commitment to do anything.
During these Lazee Daze weekend retreats, there is nothing planned. It's your "cabin" in the north woods to be with like-minded people or just be alone. Come on up and let the weekend happen. If the mood hits, go bar hopping, four wheeling, or if you like, just go hike the trails at either the Nemadji or St. Croix State Forests.
Don't feel like leaving? Then enjoy the 100 secluded acres, the two creeks on the property, and the abundance of wildlife (and we are not just talking about the people)! Whatever you feel like doing, do it! It's your choice to enjoy your Lazee Daze at Two Creeks.
Members' Entrance Fee: Please see the reservation form for details.
Don't have a tent or trailer? We also rent fully equipped; 10′ X 10′ or 12′ X 12′ cabins with microwave, air conditioner, refrigerator and queen size bed and if you prefer, tents are also available to rent (we'll even setup the tent for you). See the reservation form for details.
So come on out, get invigorated at your weekend "cabin" in the north woods. To register,please click here.