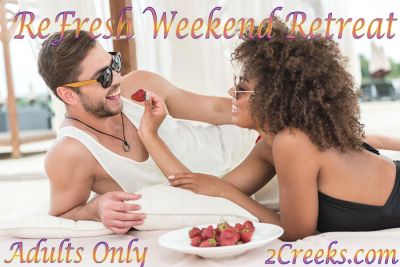 It's been a long winter. It's time to ReFresh!!! and escape the hustle and bustle while you smooth out the ruffles. Come end your stressful week by relaxing at Two Creeks.
At a ReFresh Weekend Retreat, nothing is planned. The momentum of the weekend – what happens is all left of you. Some people may plan a dance, others may sit around listening to music, enjoying a card game or just playing away.
We have tennis, pickle ball, hula hoops, pool, basket ball or bean bag toss. All are available at no cost to you.
ReFresh give you a chance to be as social or quiet as you like. You may have questions. Can we go nude?YES! How will we feel? At Two Creeks we do our best to provide a relaxed no pressure atmosphere. What about our bodies? Two Creeks believes that all bodies are beautiful, we are not a "cookie cutter" group. Will this add spice to our lives? How far you go is up to you! Can we shower outside nude? Yes, we have indoor and outdoor showers. As a new friend, you will see that nothing is required, except for you to be your beautiful self. At Two Creeks you'll see people of all shapes and sizes, all backgrounds, out just relaxing and enjoying themselves. Soon, you'll be with other adult telling jokes, grilling, or just sunning.
Come on out to Two Creeks, Minnesota's clothing optional, all lifestyles friendly campground and enjoy a ReFresh Weekend Retreat. It's your chance to do whatever you want to do, without any commitment to do anything.
During these ReFresh weekend retreats, there is nothing planned. It's your "cabin" in the north woods to make friends with like-minded people or just be alone. Come on up and let the weekend happen. If the mood hits, go four wheeling, fish the local lakes and rivers, hike the trails at either the Nemadji or St. Croix State Forests or try the local cuisine at the nearby restaurants
For more details visit 2Creeks.com